5 Healthy DIY Edible Gift Ideas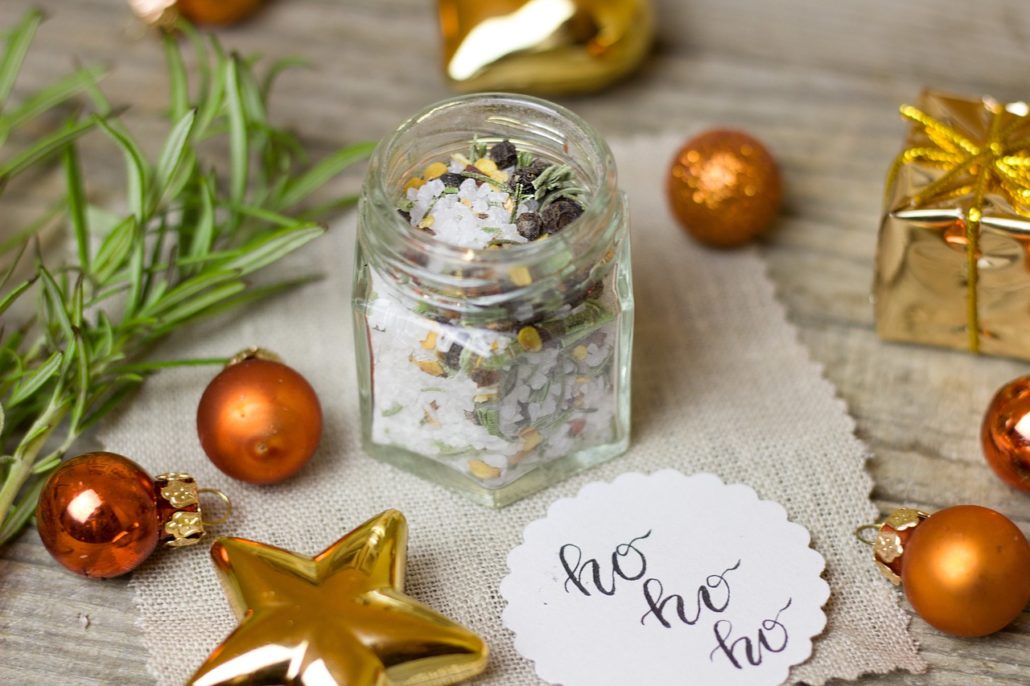 Healthy DIY gifts are the perfect idea. Do you struggle every year with what to get for that hard to buy for person, your child's swim coach, co-workers, neighbours, fellow foodie friends, or a relative whom you see once a year for the holiday dinner?
Show them you care by giving them something that will help them plan meals, while nudging them towards better eating once they get hooked on these new habits.
It's also a nice alternative if you are trying to steer away from the commercialism of Christmas and would like to give something you know people can use.
With these 5 easy DIY food-inspired ideas you can give the gift of health; they are thoughtful, easy on your pocketbook, and inspire greater well-being and happiness.
And you don't need to worry, all of these recipes are simple to customize, so you can make them gluten-free, dairy-free, and egg-free with vegan options, for your loved ones with allergies and dietary cautions.
1. Healthy Layered Soup Mix
Not only so colorful that you won't need wrapping paper, this immune-boosting soup is packed full of vitamins and minerals, healthy fats, plenty of protein and just enough spice to keep those cold bugs away over the holidays.  Inspired by fellow RHN, Julie Daniluk's Hot Detox Soup
Immune-Boosting Layered Soup
1/2 cup dried split peas
1/2 cup dried red lentils
1/2 cup buckwheat or quinoa
2 tbsp unsweetened flakes or shredded coconut
2 tbsp onion flakes
1-2 tbsp curry powder
1 tsp garlic powder
2 tbsp dried parsley
1/2 cup crumbled dried kale
2 tsp sea salt
Layer all ingredients in a 500ml wide-mouthed mason jar.
Print or write out on holiday paper the following instructions and attach with ribbon to jar:
To make soup:
Add contents of jar soup pot.
Add 7 cups of bone broth, no-dairy milk or water.
Add in cut fresh veggies of choice (carrots, cauliflower or few potatoes) – optional
Bring to boil, simmer for 45 min (or until grains are cooked)
Add 1 can of coconut milk &
2 tbsp fresh lemon juice
Mix well, serve & enjoy!
2. Chia Berry DIY Jam
Who doesn't love jam over a hot croissant or scone over the holidays?  This is the perfect treat with no refined sugar and easy to make with no need for canning skills or pectin.  Chia seeds are a jam-packed superfood high in omega-3's, fibre and protein. Once ground, chia seed will expand and become gel-like giving us our thick delicious jam. The sweetness comes from the berries.  Fresh fruit is preferred, but this time of year frozen berries will do.  Since it's Christmas time, let's try our hand at cranberry!  This recipe makes 1 1/2 cups jam enough for 3-4 small jars.  Decorate jars with ribbon and cinnamon stick.
Cranberry Orange Chia Jam
2 cups fresh or frozen cranberries
1-2 tbsp maple syrup or honey to taste
2 tbsp ground chia seeds
Juice of 1/2 fresh orange
2 tbsp orange zest (only if orange is organic)
Place a saucepan over medium heat, and add your cranberries. Allow them to soften and cook for a few minutes as the juices begin to come out.
Add maple syrup, orange juice and zest. Stir & lightly smash cranberries until you hear the pop.
Turn the heat down to low, and add the ground chia seeds. Continue to stir the jam until it reaches your desired consistency. If it gets too thick, add a splash of water.  If it's too thin add more ground chia.
Note: Since there is no sugar in this jam, it must be refrigerated and eaten within 2 weeks so don't make this gift too far in advance.
3. DIY Spice Mixes
A unique blend of your favorite spices in a Christmas tin or spice jar, paired with a recipe to use the blend is a fun and thoughtful gift. I could give you the ever-popular Pumpkin Spice recipe but why not be more unique? This holiday blend can be added to all the Christmas traditions from puddings or cookies to the sipping hot chocolate you enjoy in front of the cosy evening fire.
Christmas Spice Blend
1 tbsp allspice
1 cinnamon stick
1 tsp cloves
1 tbsp coriander seed
1 whole nutmeg
2 tsp ground ginger
1 tsp dried orange peel
Grind all ingredients and place in decorative spice jars or tins.
4. Healthy Breakfast Oatmeal Jars
Of course, the holidays are filled with cheer and excitement but they can also be a time of even crazier than normal mornings and low energy as you struggle to get moving after a week of holiday parties and get-togethers. Do you know someone who skips breakfast or prefers to grab a cup of coffee with a glazed doughnut instead?  This is the perfect healthy gift to inspire healthy habits and energize for the day ahead!  Get creative, mix and match any nuts, seeds or dried fruit.
Christmas Oatmeal
1 cup gluten free steel cut oats
1/4 cup dried cranberries
1/4 cup dried blueberries
1/2 cup almonds
1/4 cup cashews or hazelnuts
1/4 cup coconut flakes
2 tsp cinnamon
Layer all ingredients in a wide-mouthed mason jar.
Print or write out a holiday greeting tag with the following instructions and attach with ribbon:
To make oatmeal:
Add contents of jar to pot
Add 3 cups of water and bring to boil
Reduce heat to low and simmer for 15 to 20 min, stirring occasionally
Serve with almond or coconut milk
Serves 4
5. Mason Jar DIY Healthy Granola
I'm sure you've guessed my theme here!  Mason jar DIY gifts are the way to go in my opinion.  Gathering speed with the breakfast idea, homemade granola is full of protein, healthy fats, and fibre to keep you going all day long. Mix with Greek yoghurt or your favorite nut milk for the perfect breakfast or quick afternoon snack.  Again, here is where you can get creative and customize the types of nuts, seeds and dried fruit to suit everyone on your Christmas list.
Orange Spice Granola
2 cups of mixed nuts (hazelnuts, cashews, almonds, Brazil)
3 cups of gluten-free rolled oats
⅓ cup of crystallized ginger – chopped
1 cup pumpkin seeds
1 cup of unsweetened coconut
1½ tsp powdered ginger
1 tbsp orange zest (use an organic orange)
1 cup dried cranberries
⅓ cup of melted coconut oil
⅓ cup honey or maple syrup (to keep vegan)
Preheat oven to 350ºF
In a large bowl combine all dry ingredients.
In a separate bowl mix together melted coconut oil and maple syrup and stir well until combined.
Pour liquid mixture into dry mixture until dry ingredients are coated.
Pour granola onto a lined or greased baking tray and bake for 20 minutes.
Take granola from the oven, stir with a spatula then bake for another 20 minutes or until golden brown.
Allow to fully cool before storing in an airtight mason jar.
Stays fresh for 3 weeks
Merry Christmas to you and your loved ones.  I hope these ideas have inspired you to perhaps simplify holiday mayhem and bring back some family traditions or start some new ones!